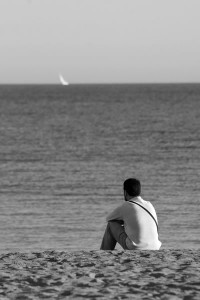 Like most people, I have moments of loneliness.  They tend to begin with thoughts about how I wish I had more people around me, everyone else is probably having fun and I'm not, blah blah, et cetera, ad nauseam.
If I look more closely at my loneliness, I usually notice that, underneath all the thinking, there's a sense of emptiness in my body.
For me, the feeling of emptiness I call loneliness shows up in my pelvis and groin area.  It's as if there's nothing connecting my lower back to my legs, and I might be in danger of spontaneously splitting in half.  (Not to mention all the other implications of having no groin.)
Can't Fight This Feeling
I used to assume, when I felt this sensation, that I had to "do something about it."  I needed to call my friends, go hang out in a public place, or something along those lines, to make my loneliness go away, and "make myself feel better."
I eventually realized, though, that my efforts to fight off loneliness didn't usually succeed.  This is because the things I do aren't fun when I do them from a place of wanting to avoid feeling alone.
If I call you on the phone, hoping you'll make me feel better, the conversation will probably have a desperate, forced quality for both of us, even if that quality only shows up in subtle, unnerving ways.  Many people stay in relationships that have that quality for years, and wonder why they never feel fulfilled.
Exploring the Emptiness
What I've learned is that, when I feel that empty sensation, the best approach is to put my attention on the emptiness — to get a sense of how big the space feels, the shape of the empty area, whether it has a color, and so on.  I explore the space, rather than trying to fill it up or block it out.
When I come to that vacant feeling with curiosity, the vacancy starts to seem fascinating, rather than threatening.  And here's the best part — the same wonder I bring to that empty feeling starts to spill over into the rest of my life.
When I'm in that curious place, I find myself wanting to be with people — not from a place of trying to relieve my loneliness, but to explore what it's like to relate with others.  I actually want to know you, rather than to use you to make me feel better.
Maybe Life Is About Embracing Space
The more exploring I do, the more I'm starting to suspect that this isn't just true for loneliness — it's true for all of the emotions we tend to label as "negative" or "bad."  Anger, sadness, frustration, and so on all seem to be tied to a feeling of inner spaciousness.
Anger, for instance, tends to come up when we think a weak (empty) part of us has been exposed, and we feel a need to protect that part from harm.
Our first instinct is to see these feelings as holes we have to fill — maybe through money, sex, food, or something else.  But I've come to think that, when we start exploring that space instead of trying to get rid of it, we deepen our enjoyment and appreciation of living.