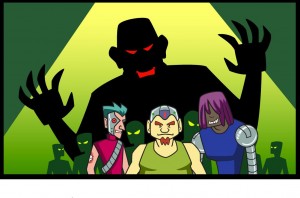 So far, I've shared samples of the animation, the new character designs, and the storyboards for the upcoming Steve's Quest web series.  But the crown jewel of the new artwork, in my opinion, is the backgrounds.  And in this post, Dear Readers, I will be your, er, crown jeweler.
The following backgrounds are from Metro City, the gritty, futuristic metropolis in which our hero Steve's cyberpunk novels are set.
I think Michelle, the artist, does a great job creating a sleek Blade Runner-esque landscape, but keeping it somewhat cartoonish and lighthearted, consistent with the spirit of the show: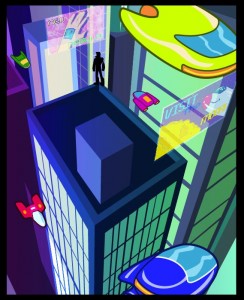 Gain, the protagonist of Steve's novel, surrounded by the obligatory flying cars and floating ads.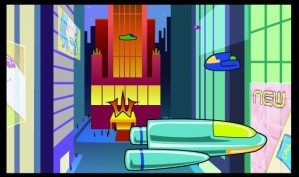 The high rise belonging to Wotan, arch-crimelord and Gain's main nemesis.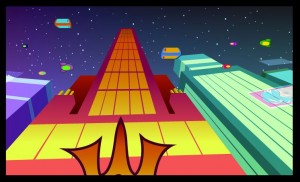 A closeup shot of Wotan Industries.
In early December — just a month away — we'll be unveiling our first episode.  I can't wait to see the visual final product!