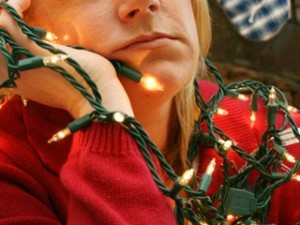 Ideally, at least in my view, the holidays would be a time for people to relax and enjoy the company of family and friends, without a lot of pressure to perform or please others.  But it seems like the reality, for many people I know, is just the opposite.
For them, the holidays are a time to stress over whether their homes look good enough, whether the gifts they plan to buy will be well-received, the uncomfortable interactions they can look forward to having with people they're going to see, and so on.
'Tis The Season To Be Neurotic?
My sense is that, for a lot of people, the source of holiday-induced stress is the long set of "rules" they believe they have to comply with during the season — rules like "you must look like you're in a happy, festive mood," "your house must be decorated appropriately," "you must buy gifts for everyone you know, and they must enjoy getting them," and so on.
All this leads me to wonder — what if, just for one holiday season, we tried doing away with all the traditions and rules, and just bringing together a bunch of people we care about and want to celebrate having in our lives?  For just one year, what if we experimented with getting rid of holiday-themed gifts, meals, decorations, and so on, and simply invited a group of people over?
To get even more radical, I think it would be fun to play some games with the group of people who came over that encouraged honesty and connection.  For example, what if we played a game where each of us talked about the neurosis that the holiday season tends to inspire in us?
If I were playing this game, I'd probably say something like "I worry that I 'haven't done enough' during the past year.  After all, I didn't win any Nobel Prizes or become a bestselling author or something like that."  After I admitted that, I'd probably find myself laughing in wonder at my mind's ability to play tricks on me.
The "Plain Get-Together" Proposal
If my own family tried this out (at least the "plain get-together" part), I suspect I'd be a lot more enthusiastic about the holidays than I usually am.  Not that I try particularly hard to keep up appearances or follow traditions as it is (I don't think I've ever owned a Christmas tree, for instance), but I think people around me would be a lot more relaxed and fun to be with if they stopped trying to do that as well.
That being said, I can respect the fact that, for some people, preparing for the holidays gives them a sense of purpose.  Some people may see decorating the house, choosing gifts, and so on as a worthwhile challenge that it's satisfying to overcome.
What's your take?  Would it be worthwhile to try a holiday season with nothing but "plain get-togethers"?