The wait is finally over — Episode 1 of Steve's Quest, the animated musical webseries I wrote and directed, has hit the interwebs!  Here it is, for your viewing pleasure: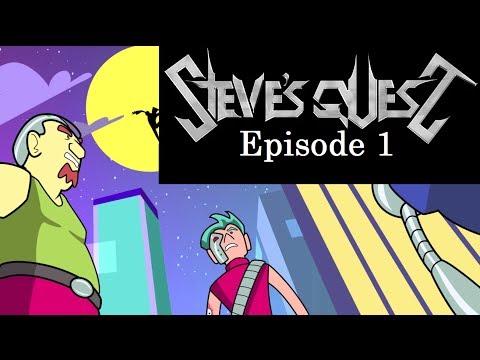 As you'll see, it's an eclectic and spicy blend of hard rock, science fiction, computer games and software engineering (yeah, basically a mixture of things I like).
If you enjoy it, and I'm pretty confident you will, please take a moment to hit the "Like" button on the YouTube video — that will help the show, and the hyper-talented team, get the attention they deserve.  If you would like to share it with people in other ways as well, please do!
Here's a fun fact:  as far as I can tell, this is the first animated musical web series ever.  Yeah, I mean the first one in the world, and potentially in the universe. It's daunting but exciting to be creating a new art form, or at least a bizarre hybrid of old art forms.
This show is the culmination of more than two years of work on the writing, storyboarding, animation, casting, and vocal and audio recording — not just by me, but by the nearly twenty people who have contributed their talents to the project.  Not surprisingly, it's hard to express how pleased I am to see it come to life.
Looking forward to hearing what you think. Episode 2 is already well on its way!